Course 33: Home workout 3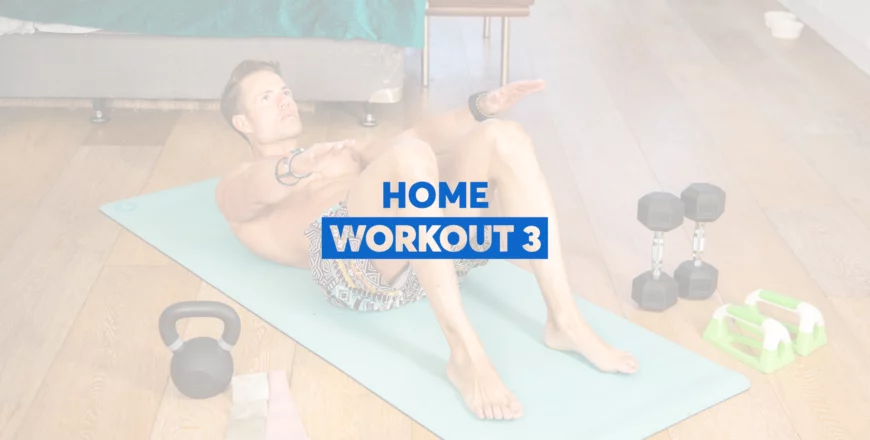 Full-Body Home Workout: Enhance Strength and sculpt your body
This home workout routine is designed to target multiple muscle groups, including your legs, core, and upper body. By incorporating a variety of exercises, you can achieve a balanced full-body workout that enhances strength, stability, and overall fitness.
Course Outcomes (What you'll learn)
Engaging in the described home workout routine offers a range of benefits that contribute to your overall health and fitness. Here are the key advantages you can expect from regularly performing this workout:
1. Full-Body Strength:
The variety of exercises targets different muscle groups, helping you develop balanced overall strength.
2. Core Stability:
Several exercises, including atomic sit-ups, toe touches, windscreen wipers, and plank arm lifts, engage and strengthen your core muscles, enhancing stability and supporting proper posture.
3. Upper Body Strength:
Standing bicep curls and standing shoulder presses target your upper body, improving arm and shoulder strength.
4. Lower Body Strength:
Exercises like single leg extensions and stiff leg deadlifts work your quadriceps, hamstrings, and glutes, contributing to stronger legs.
5. Flexibility and Mobility:
Stiff leg deadlifts help improve flexibility in your hamstrings, enhancing your range of motion.
6. Functional Fitness:
The workout promotes functional fitness by incorporating movements that mimic everyday activities, making you better equipped for daily tasks and activities.
7. Cardiovascular Endurance:
The circuit-style workout, when performed with minimal rest between exercises, can elevate your heart rate and contribute to improved cardiovascular endurance.
8. Time-Efficiency:
This efficient workout can be completed in a relatively short amount of time, making it suitable for busy schedules.
9. Core Engagement and Balance:
Many exercises require core engagement and balance, improving overall stability and core strength.
10. Convenience of Home Workouts:
You can perform this routine in the comfort of your own home, eliminating the need for a gym or specialized equipment.
11. Overall Fitness Progress:
Consistently engaging in this workout routine can lead to improved fitness levels, increased muscle tone, and a sense of accomplishment.
Remember, the benefits of any workout are best realized when combined with a balanced diet, adequate hydration, and sufficient rest. Regular exercise, such as the one described, can contribute positively to your physical and mental well-being, helping you achieve your health and fitness goals over time.
Please allow 60 mins for this workout on each level
1
Full-Body Home Workout: Enhance Strength and sculpt your body - Introduction
2
Exercise 1: Exercise 4: Single leg extension (glute bridge)
3
Exercise 2: Atomic sit ups
4
Exercise 3: Standing bicep curls
5
Exercise 4: Standing shoulder press
6
Exercise 5: Stiff leg deadlifts
8
Exercise 7: Windscreen wipers
9
Exercise 8: Plank arm lifts
Be the first to add a review.
Please,
login
to leave a review