Course 36: Outdoor workout 3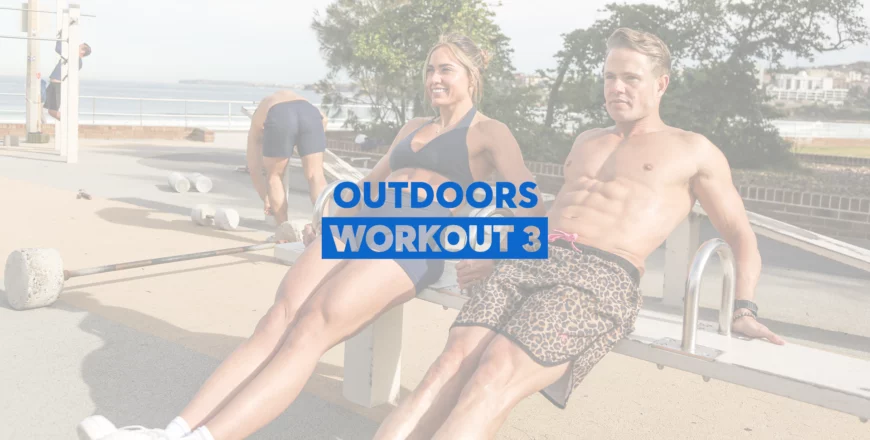 Course Description (What the course is about)
Get ready to sculpt your body the Bondi way with this delicious outdoor workout that combines cardio and strength exercises. Designed to target key muscle groups and boost your overall fitness, this workout draws inspiration from the active lifestyle of Bondi Beach. Incorporate this routine into your fitness regimen and embrace the energy of Bondi as you work towards achieving your own Bondi body.
Please remember, a good Bondi beach body transcends aesthetics and focuses on holistic well-being. It's about feeling comfortable, confident, and healthy in your own skin, regardless of societal standards or trends. Each individual's beach body is unique and should be celebrated for its diversity and authenticity. Remember that everyone's journey to a good beach body is personal, and the emphasis should be on embracing a positive and sustainable approach to fitness and self-care.
Course Outcomes (What you'll learn)
Members smashing the "Bondi" outdoor workout, which features a combination of squat jumps, abs plank, dips, standing bicep curls, lateral raises, and incline sit-ups members can expect to experience the following benefits:
Improved Cardiovascular Fitness: The squat jumps and dynamic movements in this workout elevate the heart rate, leading to enhanced cardiovascular endurance. Over time, participants may notice increased stamina and the ability to engage in physical activities for longer durations.
 Strengthened Core and Abdominals: The abs plank and incline sit-ups specifically target the core muscles. By engaging in these exercises, participants can develop a stronger core, which contributes to better posture, stability, and overall functional fitness.
Enhanced Upper Body Strength: Dips and standing bicep curls focus on the upper body, engaging muscles like the triceps, biceps, and shoulders. Regular participation in these exercises can lead to improved upper body strength and muscle definition.
Sculpted Shoulder Muscles: Lateral raises effectively work the deltoid muscles, helping to shape and tone the shoulders. Consistent practice of this exercise can result in more defined shoulder contours.
Balanced Muscle Development: The "Bondi" workout incorporates a variety of exercises that target different muscle groups. This contributes to balanced muscle development throughout the body, reducing the risk of muscular imbalances.
Increased Metabolism and Calorie Burn: The combination of dynamic movements and resistance exercises can lead to an increased metabolic rate, promoting calorie burn both during and after the workout. This can support weight management and fat loss goals.
Improved Flexibility and Range of Motion: Regular practice of these exercises, which involve controlled movements, can lead to improved flexibility and range of motion. This can enhance overall mobility and reduce the risk of injury.
Mental Well-being and Mood Boost: Engaging in outdoor workouts like the "Bondi" routine can have positive effects on mental health. Physical activity is known to release endorphins, which contribute to a better mood and reduced stress levels.
Sense of Accomplishment: Completing the "Bondi" workout offers a sense of achievement and progress, fostering a positive mindset and motivation to continue on the fitness journey.
Adaptability and Convenience: These exercises can be performed in various outdoor settings, offering flexibility and convenience. Individuals can tailor the workout to their fitness level and modify it based on available equipment.
Course Duration
Please allow 60 mins for this workout on each level
1
Outdoor workout 3: BONDI - Introduction
5
Exercise 4: Standing bicep curls
6
Exercise 5: Standing lateral dumbbell raise
7
Exercise 6: Incline sit up
Be the first to add a review.
Please,
login
to leave a review